When it comes to the best mono to mono fishing knot, there are a few to consider.
But my favorite is the double blood knot.
I learned to tie this as a young fella and it's still as relevant today.
Because it's easy to tie, has tags that don't stick out and catch on guides, and strong enough to hold a metre plus barramundi.
So… why connect mono to mono?
When targeting big fish it's important to always have a full spool of line.
This is especially true for shore based anglers because they can't chase down running fish.
Whenever my spool gets down to two thirds or so, I top up the spool with a top shot of similar diameter and join the lines together with a double blood knot.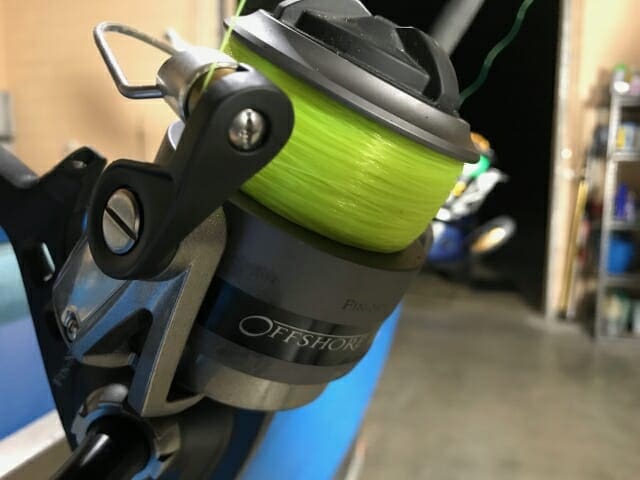 This saves replacing all the line and throwing perfectly good line away. It's not good for the environment and not good for my wallet!
A mono to mono fishing knot is best for live baiting.
Why?
Because mono has more give which suits live baiting techniques whereas braid can be a little too direct.
BUT – braid is great for luring because it's so sensitive.
Even if your're not targeting big fish you never know what could grab your line.
But if you don't have enough line you'll get spooled before the fish starts to tire.
The reason I catch so many big fish consistently is I never leave things like this to chance.
Preparation is key!
So watch the video below and learn how to tie the best mono to mono fishing knot that I know; the double blood knot.
For those of you that love live baiting, watch our "clean way to throw a cast net" video on YouTube. It has had over 1.6 million views now and I'm sure you'll find it helpful.
Related posts:
Perfection loop vs snap swivel for attaching lures
Gear and tackle cheat sheet for tropical species
So in closing, there are a few mono to mono fishing knots that can do the job, but I prefer the double blood knot because it's easy to tie, the tags are streamlined to run through your guides and it's strong enough to hold if the fish runs past the top shot.
Related Fishing Tip
Be sure and back off your drag when you get down to the top shot!
Because when your line gets down, your spool diameter is smaller which increases the drag tension.
In other words, as a fish peels lots of line, your drag increases by itself.
So it pays to back of your drag a bit as your line gets down.
I have a previous blog on drag tension to assist the beginners.
News:
Our Sounder Skills 2 online course is going gangbusters! We are getting students from all over the world taking advantage of this practical course in how to get the most out of your sounder.