Back in 2009 Karen bought a short wheel base Pajero and an Autohome Columbus Roof top tent. It was her goal to travel solo across the
Simpson Desert
(now
Munga-Thirri
) and travel remotely for 3 months. She left in June 2010 and on that journey crossed the Simpson. She also travelled the
Strzelecki
and
Birdsville
tracks, visited Uluru and Kakadu and was invited to live on an First Nations homeland in
Arnhem land
.  
Eventually she returned via the
Savannah Way
across the Gulf and up through
Cape York
. Given the remote nature of the trip though Croc country, she didn't want to be sleeping on the ground! And with a bad shoulder she didn't want to struggling trying to pack away a high roof top tent on her own. So there were definitely some criteria to meet!
But after overhearing a conversation in a 4 wheel drive shop, she decided to spend her limited funds on an Autohome Columbus roof top tent.
At the time there were very few roof top tents available. It was a toss up between the Autohome Columbus (from Italy) and another brand from South Africa. What she overheard was a man who had just done the Cape with a mate. His mate had the South African model and it filled up with bull dust making for an uncomfortable trip. The Autohome Columbus roof top tent however was worth the extra coin. Because it was lighter, more streamlined saving fuel and more air tight due to the high quality build, it was a better choice. It was also super easy to open and close. We have since done many trips in her SWB "Snowflake' including to
Goshen Station
,
Cape Melville
and the notorious
CREB track
.
Autohome were the original inventers of roof top tents back in the 1950's.
The original and the best as they say!
Autohome has such an interesting history.
  Due to the quality build and good name, they have been leaders in the roof top tent game for many years. Especially in Europe. Here in Australia they are only imported by one company. A budding duo of intrepid travellers called
The Overlanders
You can take a look at the current range >
The Overlanders range here. 
If they have stock (like they did with our new one), it will be here in less than a week.
The tent has barely aged since 2009 despite such extensive use!
The canvas is of such high quality it is still as good as the day we bought it. We have painted the outside fibreglass from white to black recently as the black was unavailable when she bought the original tent way back when. But it was not a necessary paint job. The fibreglass was in great condition although we do polish our cars and tents regularly. Overall we would say without doubt the Autohome Columbus Roof Top Tent is a high quality purchase that will last you for decades. For a peak inside the tent and some of the features, check out our review video below.
The benefits of an Autohome Roof Top Tent are many and varied.
Safety
Bedding stored away
You can travel to more remote areas or tow a boat
Great protection from the elements – mozzies, rain, wind etc.
High quality and long lifespan. Ours is over a decade old and still going strong.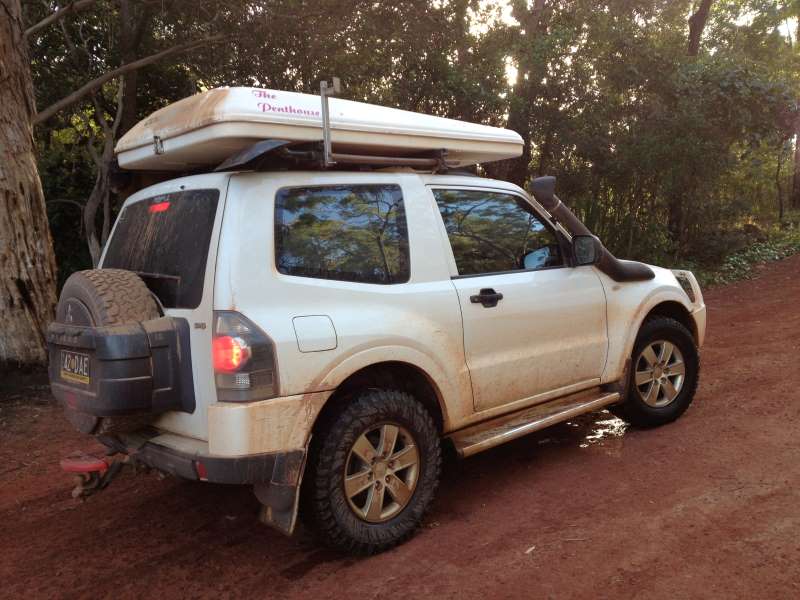 Quality… Stuff you only need to buy once.
Distribution in Australia
Autohome Columbus tents and their sister ship the Maggiolina (they open in a more rectangular fashion than the triangular clam shell Columbus) are imported from Europe by the lovely guys at
The Overlanders.
So be sure and jump on over to their website and take a look. We honestly could not be happier with our two models. They have been such a brilliant investment for comfortable, safe and easy camping!